U.N. officials are "99.9 percent certain" there were no Palestinian militants in or on the grounds of a school that was shelled by Israeli forces, killing more than 40 people, a spokesman said Wednesday.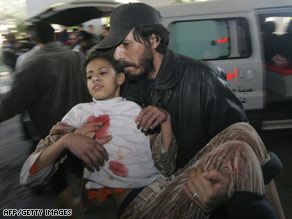 A Palestinian man carries a wounded girl into a Gaza City hospital.
Chris Gunness, a spokesman for the U.N. Relief and Works Agency, disputed Israel's account of the bombardment of the northern Gaza school. But he said that if anyone could clear up the remaining uncertainty, "We would like them to come forward and be part of an impartial investigation."
The deaths have stoked international concerns about the Israeli campaign in Gaza, which showed little sign of letting up Wednesday.
The Israeli military said Hamas militants were firing mortars from the U.N. school in the northern Gaza town of Jabalya that was being used as a shelter by hundreds of civilians. It said a pair of prominent Hamas operatives -- Imad Abu Askhar and Hassan Abu Askhar -- were in the school.

Watch the IDF claim Hamas is using human shields »
Those operatives, described as heads of Hamas mortar-firing operations, were killed in the strike, the Israel Defense Forces said.
"We face a very delicate situation where the Hamas is using the citizens of Gaza as a protective vest," Brig. General Avi Benayahu, an IDF spokesman, said Tuesday.

'No safe haven' in Gaza, U.N. official says »
But John Ging, UNRWA's director, has called for an independent investigation into the strike, which came a day after an airstrike killed three men at a second U.N. school in Gaza City.
He said all U.N. buildings in Gaza were "clearly marked" with U.N. flags, and UNRWA had given the global-positioning coordinates of all its schools to Israeli authorities, Ging said.